Home Smart Speakers
Yes I have pondered many hours on how to justify to the significant other in our relationship that we need a smart speaker in our lives, what could it do for her ? The lights, the radio which she loves to have on, a warm house to come home to and I am sure I will think of many more reasons before I purchase one.
The next problem is which one do you get. The Amazon Echo/ dot, Google Home or wait for the Apple product ? Well I have the Apple iPhone, iPad Pro, the Mac Book Pro so I will be waiting to see what it does actually deliver but will the price point be to high. Do you need one in every room such as the affordable echo dot ! who knows in this early stages of voice automation. Now there is demand for smart speakers the other big companies will want to produce their own branded speakers
New smart speakers including from Sony, Panasonic, Harman Kardon and Onkyo were revealed at Europe's biggest consumer tech fair, with several using Google Assistant to help play music, control external devices and much more
[amazon_link asins='B01GAGVIE4,B01DFKBL68,B072TQ86BV' template='ProductGrid' store='casinodumm-21′ marketplace='UK' link_id='fec1a127-96e1-11e7-8573-2b36ae039656′]
Below are some reviews and comparisons from varies other sites.
Home Smart Speakers
Tech companies have worked hard over the past few years to make the music listening experience a ubiquitous one. Thanks to recent developments in streaming services and truly wireless headphones, we're closer than ever to taking every song ever written with us wherever we go.

But one area where we've struggled is whole-home audio. Enter Amazon and multi-room music streaming. Like most Amazon consumer technology, its solution to multi-room audio is both cheap and convenient.
You may be familiar with existing whole-home audio solutions such as Sonos, Google Home, Chromecast and the upcoming HomePod from Apple. Amazon recently joined these tech stalwarts by activating multi-room audio capabilities on Echo devices via a software update.
The intention, of course, is to create a system where users can synchronize in-progress audio streams across multiple Amazon devices — one in each room, perhaps, or even spread out across multiple floors in your home. Industry insiders expect the new feature will add layers of complexity and customizability, too. Rather than just "flinging" music from a single source to a single speaker, you can group two or more Amazon devices and play music through all of them at once.
They already compete in so many areas—operating systems, phones, and online services—but now Google and Apple are adding a new area of competition to … Google Home vs. Apple HomePod: iOS 11 Aims To Fix Siri – DeathRattleSports.com
Echo's multi-room audio: What you need to know – VentureBeat
They already compete in so many areas—operating systems, phones, and online services—but now Google and Apple are adding a new area of competition to the mix: smart speakers.

Here, Google has a massive head start on Apple, with its Google Home speaker released in November 2016. Apple's new smart speaker, the HomePod, won't be released until December 2017, giving the search giant more than a year's head start.
But while Google Home has the advantage of time, Apple has clearly designed its upcoming HomePod, first previewed at WWDC 2017, to compete.


Amazon's been operating in this space for the best part of two years now and it has learnt a lot in the process. The net result of this is that Alexa, Amazon's AI, is smarter and can do more than Siri and Google Assistant combined.
The big area where Apple is lagging behind Google and Amazon is with the actual usability of its personal assistant, Siri. For the most part, Siri, though more senior than both of Google's and Amazon's solutions, is pretty useless at present in comparison.
All this will change with the release of iOS 11 though, as Apple has been working hard on Siri behind the scenes for the past 12 months. And the reason for this is that Siri will be the thing that powers its HomePod devices but also because voice is where things are going.

"Siri will also use "on-device learning" to be more predictive about what you want next, based on your existing use of the digital assistant. That learning gets synced across all your devices, but remains private to you, according to Apple."
read more at deathrattlesports.com
Home Smart Speakers
New smart speakers including from Sony, Panasonic, Harman Kardon and Onkyo were revealed at Europe's biggest consumer tech fair, with several using Google Assistant to help play music, control external devices and much more
The runaway success of Amazon's Echo smart speakers appears to have triggered a rash of similar products. An estimated 10.7 million Echo units had been sold since its launch in late 2014 to May this year, according to US-based Consumer Intelligence Research Partners, a figure no doubt behind the number of rival products from many top brands at Europe's biggest consumer tech fair, IFA, currently running in Berlin.
We think demand for assistants – especially in the home, and as they become more sophisticated – will make smart speakers significant, particularly within an audio-market context," said Simon Bryant, associate director at analyst firm Futuresource Consulting.
Sony presented a splash-proof, 360-degree smart speaker complete with a clock display and the ability to communicate with other devices around the home. Called the LF-S50G, this Bluetooth speaker with NFC has the Google Assistant built in and can answer questions, as well as externally control Google's Nest thermostat and Philips' Hue connected light bulbs. However, perhaps the killer feature is that you can change music tracks by gesturing a hand left or right. Expect it to sell in November for around HK$2,000.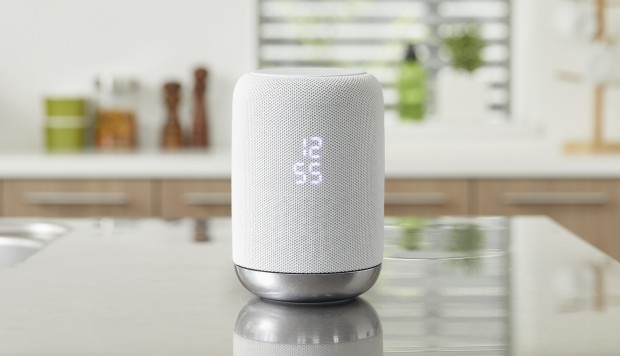 Panasonic's rectangular SC-GA10 speaker also has Google Assistant and is capable of streaming from Spotify, Google Play, Deezer and TuneIn Radio. Although it offers only 180-degree sound, two can be daisy-chained via Bluetooth to form a stereo sound stage, or even a multiroom music system.
The Harman Kardon Allure is arguably the most audiophile-attracting attempt so far, with a subwoofer inside an intriguingly transparent 360-degree smart speaker. It is due to sell in December for about HK$1,955.
If IFA is anything to go by, smartwatches appear to be a dwindling category. Fitbit's Ionic was the biggest announcement; the brand's first smartwatch will have a four-day battery life, act as a swim tracker and even be capable of making payments.
Home Smart Speakers
Pioneer and Onkyo have announced two new smart speakers with a different spin — they combine multiroom streaming audio with Amazon's Alexa assistant. Prices will start at $250.
Ever since the first smart speaker, the Amazon Echo, was released almost three years ago this category has primarily been more concerned about the "smarts" than the speaker. The Echo, the Google Home — these are very intuitive and capable digital assistants, but they sound like clock radios.


The two companies have outlined their upcoming smart line, which will be released in October 2017, and these speakers look to be pretty decent. The pair have introduced two new speakers at the show in addition to the VC-FLX1 we saw at CES.
Since the combination of Pioneer and Onkyo in 2014 the companies have teamed up several times to produce near-identical products but with their own respective badges stamped on it. These speakers, however, are different.


Want Google Assistant? Then you want the Onkyo Smart Speaker G3. It's a Chromecast product with built-in microphones for talking with Google's smart home system. It looks different to its competitors, with a brushed-finish cabinet and a macho-looking grille. It features a two-way speaker design and a dedicated amp. It will be available for $250.
As for multiroom, you get DTS Play-Fi for interoperability with over a dozen manufacturers' products. The VA-FW40 will be available for $299. We tested it briefly on the show floor at CEDIA 2017, and while there was a little lag while it pulled up the song we requested it worked first time — even in the noisy environment of a trade show.
Pioneer and Onkyo offer choice of Google or Alexa smart speakers – CNET
Home Smart Speakers
So which is it to be, jump in and buy a smart speaker now and be Mr cool in the office or wait as the technology's develop and see which comes out top.