The Secret To Those Perfect Abs
Im afraid to say the secret is a good healthy diet and exercise. Stop ! Before you all close the page down huffing and puffing I am not suggesting that you eat salad and chicken for the rest of your life and workout like a Greek God 3 times a day. If you need / want to look a little trimer and firmer around the waistline then you only have to make some small changes to your lifestyle. Getting started is probably the hardest part so if you need a little motivation to start with try this article "Its Cool To Be Fit".
I have to confess that I have fell of the exercise wagon again so I have just started again. I am on day 3 and the exercise's I do before I come downstairs for my breakfast are 15 sit ups and 10 press-ups with my knees on the floor. Yep at the moment we are talking about less than 5 minutes of activity in the morning and its that simple to start with. As I sit here typing this article I can feel the muscles in my stomach tingling and a little achy which of course its good. If it hurts then it worked. So I have challenged myself to be able to do 100 sit ups by the end of month 4.
I am keeping a brief dairy at the bottom of this post on the progress to the 100 sit up challenge so please do have a read. It may inspire you to start your own exercise regime or even give you a giggle about my failures of the day. Along the way there will be failures and successes. Ultimately I will succeed.
I will also be adding some of the tasty healthy food creations of mine along the way which might look tasty enough for you to give it a try. The rest of the food I cook will definitely not be contributing towards the perfect abs but will help me do the 100 sit up challenge.
Perfect Abs ; The Muscle Groups
Ideally you want to target all the muscles in your stomach so a variation on the basic sit up is needed. This also has the added benefit of not becoming bored with doing the same exercise over and over again. Do not start with doing to many sit ups to get the perfect abs you want continuity 5 days out of would be a good start and you will only need to perhaps start with 10 sits ups. If you get bored easily like myself and do not want to spend the time doing 100 sit ups (eventually) then add a little weight to the exercise. The stomach muscles are like every muscle in the body in that they respond well to resistance training.
The Perfect Abs : How Do Muscles Grow
Since you put enormous pressure on multiple muscles in your body, the muscles fibers undergo a change at the cellular level; they actually experience infinitesimally small damage. The word 'damage' gives most people chills, as it is rarely a positive term, but rest assured, damage in this case is precisely what you need to grow muscles.

The damaged cells release molecules known as 'cytokines', which call on the immune system of your body to repair the minor injuries. The immune system sends its 'doctors' to repair the damage and voila! You have just built stronger muscles! (Source)
The Key To keep exercising is Variety
ABSThe star of the ABS-CBN daytime soap "Ikaw Lang ang Iibigin" shared her workout routine in a video by the local fashion magazine Preview. One of the three exercises she demonstrated is the Russian twist which, she said, targets the obliques … WATCH: This is Coleen Garcia's secret to 'rock solid abs' – ABS-CBN News
"And if you think about the running gait, only a single leg is on the ground at any one time, so doing moves that work your abs, back, and hip flexors will promote stability and make your workouts easier and better," says Tony Maloney, a spokesperson … The One Move You Should Be Doing, Based on Your Favorite Workout – Greatist
The Perfect Abs
If the idea of another crunch is driving you insane then this next method could be the one your looking for
Men's HealthNo crunches. No sit-ups of any kind. Just three moves that challenge your stability. All you need is a kettlebell. This 3-Move Kettlebell Combo Will Show Off Your Abs In No Time … – Men's Health
Regular exercise is not just good for your waistline – it flexes your brain as well. That is according to a new study by the National Institutes of Health, which found running once a day has a transformative effect on cognitive health. Examining mice … Forget toning your abs – exercise beefs up your brain: Study shows how running transforms your cognitive health … – Daily Mail
Aerospace is the boxing studio where you're just as likely to throw punches alongside a Victoria's Secret model (Adriana Lima is a huge fan!) as you are a. Boxing Ab Workout | POPSUGAR Fitness – POPSUGAR
Complete 20 repetitions of each of these 3 core activating exercises, then immediately start over and do 18 repetitions of each of them, then 16, then 14, then 12/10/8/6/4/2. You should be able to finish in less than 3 minutes… and if you still want … Is This The Quickest Abs Workout Ever? – Hit 107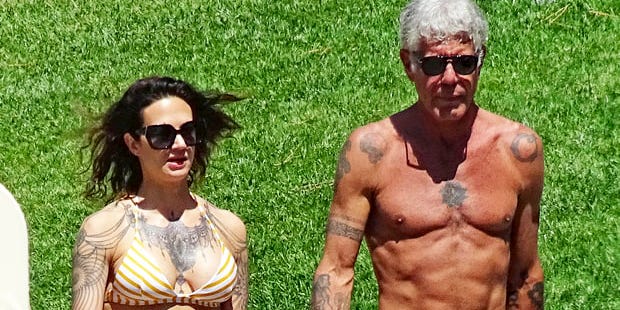 While celebrating Asia Argento's birthday in Italy, the couple was photographed in swim gear at a hotel pool. Unsurprisingly, Bourdain, whose many interests know no bounds, appears to be sticking to one pursuit in particular: jiu-jitsu. Jiu-jitsu is a combat sport that emphasizes core strength, flexibility, and endurance.
Last year, the chef/adventurer said he trains every day, no matter his location on the globe. In New York, he trains at Renzo Gracie Academy. "An hour private and then an hour and a half general population. That's basically Fight Club," he told Nuvo.
Bourdain doesn't use machines or weights, and he also competes. "I have had my ass kicked everywhere in the world. I am a 60-year-old blue belt who doesn't suspect he will ever make it to black belt in this lifetime," he told Men's Journal. (Bourdain is 61 years old now.)(RIP)
So my advice to getting those perfect abs is start slow and do not aim for the unachievable to start with. If your goal is to achieve 100 sit ups then set realistic goals
Relax with Gumbies
[amazon_link asins='B06Y2W2L98,B00COQ2X94,B01N0F81NH,B001MBURCW,B074J6826H,B000HD1MTI' template='ProductCarousel' store='casinodumm-21′ marketplace='UK' link_id='9060ebd0-b278-11e7-aa96-836c30873fce']
Perfect Abs Workout Schedule 100
Ideally you do want to give your muscles some time to recover, rest and rebuild. The most you want to train them is any 5 days in 7. You could have just a single day off or like myself at the moment I have the weekend off giving 2 days rest. Also look at the links above and do vary the type of exercises you do to tone up those abs
Week 8 = 50 sit ups (take 3 days rest in the week if the muscles become tight)
Week 15 = 95 sit ups
Week 16 = 100 sit ups
Yes it is 4 months before you hit 100 sit ups in the search of creating a perfect set of abs but you have to make it achievable. If you feel you can progress a little quicker then do so but be WARNED. Those muscle can be very sore the next morning and you may feel like not even doing a single sit up so do pace yourself. The advice above is only advice and of course you do not have to increase at the rate suggested but ensure that you train weekly and just don't stop.
Good luck and please share your progress with us.
If you are unsure of your fitness and have any concerns before starting an exercise routine please speak with a medically qualified person.
The Perfect Abs : 13/11/17 Update
I must confess that I am a little behind on my original schedule as I went to France for the week when the kids were off school so I did what the French do and had to red wine and food. I am currently at week 4 schedule in terms of the amount of setups I do each morning so I am going to stick with that and push forward. I am also doing press-ups in the morning straight after my setups. Today I managed 22 press ups and I still have my knees on the floor. The president ups is one exercise that I have never been any good at in my entire lifetime so I am determined to keep them up as well. The consqenqsese of doing my regular sit-up regime are being to have results. Now when walking the kids to school I have noticed that I am standing up straight along with feeling that little bit taller and confidence within myself. Oh occasionally when I stand up straight and stretch my stomach muscles are really sore. As I said before if its not hurting then its not working so all good. Yes some mornings I get up and the last thing I want to do is exercise but so far I have pushed through. Until the next update good bye and I hope that you are all keeping the faith as well.
The Perfect Abs : 16/11/17 Update
Tuesday this week I had a day off, excuse is, err well it was busy in the house first thing and I just didn't have the mojo. Good news was I took the dog for a walk as usual and had a little jog on that day but felt really demotivated the rest of the day. Wednesday I woke up feeling much better and in fact did 30 sit-ups & 15 crunches as well but the press-ups I managed 20. I hate press-ups.
Thursday morning still feeling good so pushed out another 30 sit-ups and managed 25 press-ups. I still hate them but I am keeping the strictest form as I can to ensure I work all the muscles. I am not about to say I did 50 press-ups when I haven't after all I am only competing against myself and maybe old age.
100 Sit Ups Challenge Update 20/11/17
Mondays, exactly the same as the Boomtown Rats song, "I don't like Mondays". After the weekend and giving those muscles a rest it is always hard to start again on Monday morning especially after the traditional large Sunday roast washed down with a few large glasses of red wine. So Monday is the most important day of the week because if you fail to start then there is a good chance of slipping for the rest of the week. So here it is 33 sit ups and 13 press-ups. The press-ups are low because I have gone to a full press up position and not on my knees. Yes a little disappointed with only 13 but I will work on it.
This is the type of sit up I am doing at present. I lift my head and feet at the same time raising me knees to the middle of my stomach and touching with my elbows. I then stretch back out again keeping my feet and head off the floor for each repetition.
100 Sit Ups Challenge Update 25/11/17
I started this week doing 40 sit ups but I have noticed that when I get close to finishing the very top of my thighs are starting to hurt. I think the muscle is oliopsoas , well I think its that one. So to give them a bit of a rest I will be changing the style of sit up to 25 regular sites and 15 crunches.
Thursday morning not so good, last night I had several large glasses of red wine so the very last thing I wanted to do was my morning routine. I know self inflicted and not wanting or expecting any sympathy, I just did it and actually it cleared the head a little which is encouraging as it will happen again. Now my least favourite exercise "press ups" still only managing 13 which is pretty poor. Obviously when the maker was handing out muscles for press-ups I was at the back of the queues. The strange thing is my chest size isn't small at all as when I buy suits I have to get the next size jacket up from what is normally supplied with my regular waist size. Anyway I am determined to do something about it so today I will be clearing out the shed, or is it the loft but somewhere I have a set of rusty dumbbells which I intend to start using as well.
100 Sit Ups Challenge Update 07/12/17
Its been a while since I last updated and thats because I had a setback to the program. Last Monday I did 45 sit ups as scheduled and all was good, however Tuesday morning came and went without me doing a single rep. I just woke up and decided that I would give it a miss and then refocus on the Wednesday. I just felt, well not quite right and shrugged it off. Then came Tuesday night and I play Table Tennis in the Local league and we had a match that night with the team at the top of the league. I went a little earlier than small to get some practice in before the match as at my age it takes me a little longer now to get warmed up and the muscle memory working.
It was quite cold that night in the hall so I decided to keep my tracksuit top on whilst it got a little warmer and within minutes I was warm so off came the top. Even though I was now just in my T-shirt and shorts I was starting to get really hot and all in less than 5 minutes. To my horror sweat was dripping of my brow and the legs were getting fatigued all before the 10 minute marker. It suddenly dawned on me what was happening, "flu" not any normal flu but the worse "man flu". No seriously the kids have been sniffling all weekend and it just grabbed me all of a sudden shutting down the body to a mere limp. I won 2 of my 3 matches that night but felt absolutely awful.
So all week no exercise apart from walking the dog and Monday came without the desire to hit the floor and get some reps done. Tuesday came, the desire did not, Wednesday came still no desire, the runny nose was till there but I had decided that if I did nothing then I was in grave danger of loosing the habit with the consequences of starting back at the beginning in a few months. So on the bedroom floor I laid again in silence and part darkness promising myself that I would do at least 10. Through gritted teeth and clenched buttocks I managed to do 35 sit-ups much to my delight. I then did 8 press ups on my knees before the body would do no more. I flopped onto the floor breathing rather heavy and after two minutes my whole body started to sweat profusely so I presume my body was trying to get rid of the virus, I hope. Next stop was a quick shower before doing the kids sandwiches for school.
Thursday still not 100% but I thought I felt better than yesterday so the bedroom floor it was. Well I may feel mentally a lot better but the body isn't, I managed to squeeze out 32 sit-ups along with only 3 press-ups and the profuse sweating started earlier in  the routine this time but with added symptoms. My skin felt clammy, sticky and 30 seconds after I had done I felt a chill across my body, Yep shower to warm through and cool of at the same time. I hope tomorrow brings brighter outcomes.
Covid 2021
Wow did not release that I had published this so long ago, so many things have changed since then. Separated and living alone, life was quite a turmoil for a while, living at my others fo a while, the kids having to sleep on the floor.
Eventually I got my own place, the kids have beds when they come to stop so all good. Then covid struck in 2020 which wasn't good. I think around April my mental health wasn't in a good place, no exercise, too much drink.
Then I remembered, physical exercise will help (I should know as I amp a qualified sports psychologist). I started jogging (walking to start) and began my sit-up routine again. The running is going ok, the sit-ups not so well, so March 2021 is time to start again.